Macaroni and Cheese
Cookbook
Published by Workman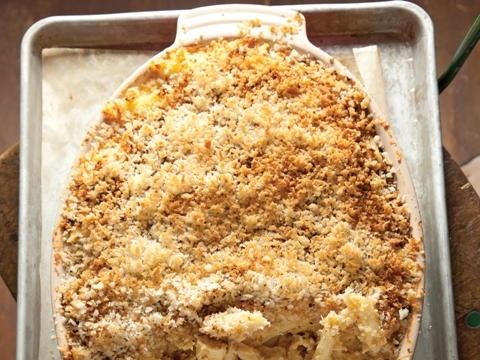 My kids like Kraft macaroni and cheese. There, I said it. I haven't made it in a long time although, like most of us, I have succumbed to the call of the blue box at times. But even now when they eat it at a friend's house I definitely get to hear about it later: "Kiefer gets to have the macaroni and cheese in the box every night. Why can't we ever have that?" Still, they seem to be willing to shovel in this homemade version at a pretty fast clip, and we can pronounce all of the ingredients. Laced with a blend of cheeses and enriched with milk and cream, even grown-up guests tend to sigh with pleasure while looking at the browned panko crust sitting atop a bubbling casserole of cavatelli nestled in a sauce fragrant with a mixture of Gruyère and cheddar. (Although we call it macaroni and cheese, the actual pasta shape is up for grabs.) It's hard to think of a single dish with more universal kid appeal. The Dijon mustard and red pepper flakes give the macaroni and cheese a little kick, a little edge, and save the dish from being too intensively rich and creamy (not that there's anything wrong with that). And, no, this isn't low fat. Thanks for asking.
NotesPanko are light Japanese dried bread crumbs. Although they are available at most supermarkets and at any Asian market, you can substitute 3 cups of fresh bread crumbs or 2 cups of regular unseasoned dry bread crumbs.

Who Moved My Cheese to the Back of the Fridge?

I keep changing up the cheese in this dish, depending on what I have on hand, and so my mac and cheese never tastes the same twice, which I find part of the thrill. My lovely dish-washing husband, however, has been known to look sadly at the last few globs on the plates and say wistfully, "Well, we'll never eat that again," already mourning the delicious, undocumented combination of cheeses that has come and gone. Some good basic cheeses to start with are sharp or extrasharp cheddar, Gruyère, Swiss, Manchego, and fontina, or any combination of these. You can also use bits of softer cheeses, like Brie or fresh, mild goat cheese if you have some small pieces lingering about. Remove all rinds you wouldn't want to see floating around in your mac and cheese and unless you really know your audience, stay away from very potent cheeses like blue cheese or smoked cheese or anything particularly stinky.

Make Ahead: You can prepare the macaroni and cheese up to the point of baking and let it sit at room temperature for up to two hours. If you want it to keep longer, you can refrigerate it for up to one day. Either let the macaroni and cheese come to room temperature before baking or, if you're taking it straight from the refrigerator, add about fifteen minutes to the baking time. Also, you can wrap the macaroni and cheese very well with aluminum foil and freeze it for up to three months. Either defrost it in the fridge (this takes about twenty-four hours), or add about thirty minutes to the baking time— leave the foil on the casserole for the first thirty minutes of baking so the top doesn't get too brown. No matter what, if you're going to refrigerate or freeze the dish before baking, hold off on the panko topping. It's best if you add it just before baking.
What the Kids Can Do: Kids can grate cheeses, if they are old enough to handle a grater. They can measure all of the ingredients and mix together the panko topping. If they can be safely near a hot stove they can help stir together the sauce. And they can sprinkle the crumb topping over the casserole.
Fertility Mac and Cheese: Among a small group of my friends this dish is referred to as "fertility mac and cheese." I made it for one friend at her request because it was the comfort food dish she was craving the night of her in vitro fertilization. When I received the news that she was pregnant . . . with twins, I happened to be visiting another friend who was about to embark on fertility shots. She insisted I make the mac and cheese that night and put another in the freezer for the night she began her fertility regime, which I did. One month later, she was pregnant. With twins. Yes, yes, we all know that the fertility medications were probably more responsible for the pregnancies than the mac and cheese, but who's to know for sure if there might not have been a little correlation? If you are in baby-making mode, it can't hurt to toss this dish into the mix, though if you are trying for a baby but not going to be excited about twins, caveat emptor.
Serves8 to 10 as a main dish ?

OccasionFamily Get-together
Dietary Considerationegg-free, halal, kosher, peanut free, soy free, tree nut free, vegetarian
Taste and Texturecheesy, creamy, rich, sharp
Type of Dishbaked pasta, pasta
Ingredients
3 tablespoons unsalted butter
3 cups panko (Japanese bread crumbs, see Notes)
? cup freshly grated Parmesan cheese
4 tablespoons (? stick) unsalted butter, plus butter for greasing the baking dish(es)
4 tablespoons all purpose flour
? teaspoon red pepper flakes (optional)
4? cups 2 percent or whole milk (however indulgent you're feeling)
1 cup heavy (whipping) cream
5 cups coarsely grated flavorful cheese, such as sharp cheddar or Gruyère, or a mix (see Who Moved My Cheese to the Back of the Fridge? in Notes)
? cup freshly grated Parmesan cheese
4 teaspoons Dijon mustard
1? teaspoons kosher or coarse salt, or more to taste
? teaspoon freshly ground black pepper, or more to taste
1? packages (24 ounces) dried cavatelli, ziti, penne, or any short pasta
Instructions
1. Preheat the oven to 400°F. Butter a shallow 4-quart baking dish (or use 2 smaller baking dishes, or one smaller baking dish and some individual ramekins; see the Fork in the Road in Notes).

2. Bring a large pot of water to a boil, salt it generously, and let the water return to a boil.

3. Meanwhile, make the panko topping: Melt the butter in a small saucepan over low heat or place it in a medium-size microwave-safe dish and heat it in a microwave oven until melted, 15 seconds. Add the panko and the Parmesan and stir until well combined. Set the panko topping aside.

4. Make the pasta and sauce: Melt the butter in a large heavy saucepan over medium heat. Whisk in the flour and red pepper flakes, if using. Cook, stirring, until the flour is blond in color, about 4 minutes. Gradually whisk in the milk. Increase the heat to medium-high and let come to a simmer, whisking frequently. Reduce the heat to medium-low and let the sauce simmer until it starts to thicken, about 5 minutes. Add the cream, grated cheese, Parmesan, mustard, salt, and black pepper, stirring until everything is smooth. Taste for seasoning, adding more salt and/or black pepper as necessary.

5. Add the pasta to the boiling water and cook it until barely al dente (follow the package directions but stop a minute or two before the pasta is completely tender). Set aside 1 cup of the pasta cooking water, then drain the pasta.

6. Whisk the reserved pasta cooking water into the cheese sauce, combining it thoroughly. Add the pasta to the cheese sauce and stir to combine. Spoon the pasta mixture into the prepared baking dish. There will appear to be a lot of sauce. Some of it will be absorbed into the pasta as it cooks, and in my book saucy is better than dry.

7. You can continue with Step 8 or see the Fork in the Road suggestion on preparing the mac and cheese for kids below

8. Sprinkle the panko topping evenly over the pasta and bake it until golden and bubbling, 30 to 40 minutes. Let the pasta sit for a few minutes before serving.
2012 Katie Workman
YOUR RECENTLY VIEWED RECIPES
Free recipes, giveaways, exclusive partner offers, and more straight to your inbox!