Salty Key Lime Tart with Triple Coconut Frozen Custard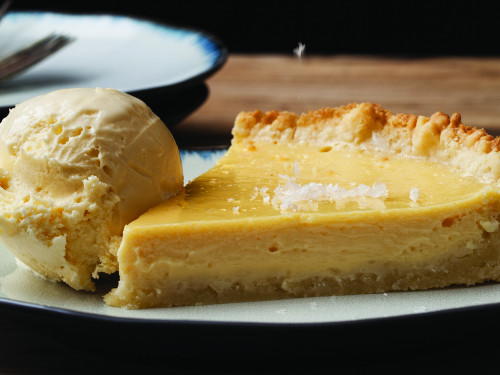 Salty Key Lime Tart with Triple Coconut Frozen Custard
Editor's Note: Here's a new and refreshing take on the traditional key lime dessert! In this recipe for Salty Key Lime Tart with Triple Coconut Frozen Custard, you'll combine a medley of flavors that will result in a dessert that is creamy and unique. This tart recipe takes some prep work, but the results will be worth it. You'll discover this pie is definitely a show-stopper that will win over even the most died-in-the-wool dessert traditionalists in your group of friends!

We have long been fans of salt in desserts: a little in ice cream, a little in chocolate cake. It highlights accents in a sweet palette that may get lost—helping bring to the foreground, say, the lime and coconut in this combo. But there's no doubt that this tart takes our love of salt over the top. If you're unsure, omit the flaked salt on top—there'll be enough salt in the crust to carry that mineral flavor forward in each bite.

This one's a salty shortbread crust topped with a sour lime curd. We used cake flour to create a shorter, crisper crust. And we added confectioners' sugar (with its attendant cornstarch) as well as extra cornstarch to pull out the moisture. There's no chance of this tart going boggy!

Key lime juice is, of course, squeezed from key limes, smaller, more acidic, and more heavily perfumed limes than the standard, Persian limes. Key limes are actually grown in many places besides the Florida Keys—and were not even indigenous to those islands. You can use standard lime juice in this tart but the more moderated flavor will not stand up as well to a salt garnish.

We didn't solely rely on the coconut fat in coconut milk to make an ice cream. We tried that—the texture was still too icy. So we added eggs. Then we added cream. Now it was worthy of that salty lime tart. But for an even more sophisticated flavor, toast the coconut on a baking sheet in a 325 degree F oven until aromatic, stirring occasionally, about 5 minutes. The coconut will brown a bit at the edges, so the ice cream will not be as white (and not as aesthetically pleasing), but the taste will be more reminiscent of coconut cream pie.